MYSTIC, CT – Each year Qualified Remodeler Magazine reviews thousands of applications for their Top 500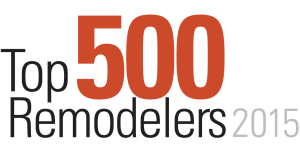 Remodeler Award. The magazine has specific criteria and documentation that must be reviewed and approved by a Certified Public Accountant before the companies may be considered for the award. For the third consecutive year, Advanced Improvements has been named one of the Top 500 Remodelers in the country and, more specifically, #3 in Connecticut.
Advanced Improvements is a Full Service General Contractor with their main office located in Historic Downtown Mystic and a workshop located in Groton, CT. The company, owned by David Preka, has been in business for over a decade and employs approximately 30 full time workers. Advanced is fully licensed and insured in Connecticut, Rhode Island, New York and Massachusetts. It is evident by their track record and numerous other recognitions and certifications that Advanced produces quality work with satisfied customers on each of their projects. One of the company's classic and very appropriate phrases is "Building Excellence."
Preka recently said, "On behalf of my entire company I am so pleased to once again be receiving this amazing award for the third year in a row. Without my dedicated team of experts and amazing clients, I would not be where I am today. It is hard to believe that I came to this country with little to nothing and now I am responsible for building this amazing company that I am so proud of."
David Preka is originally from Albania and currently lives here in Southeastern Connecticut with his wife, Jody, and his son, Cody. Preka continues to impact our community not simply with job creation but also with his efforts to give back to area non-profits and organizations. Advanced, under Preka's direction, has worked at no-cost for organizations like the Boys and Girls Club of Southeastern Connecticut, Riverfront Children's Center and the Summer in the City initiative in Groton City, Connecticut.
In addition to this award, Advanced has also received Remodeler of the Year by the Builder's Association of Eastern Connecticut in 2013 and was also given a Proclamation of Excellence from the Town of Groton by the former Mayor and, more recently, Lt. Governor Candidate for Connecticut, Heather Bond Somers.
Preka also stated, "I look forward to the future of my community and business. What my friends and colleagues have accomplished to-date tells me that with hard work and dedication anything is possible even in these tough economic times."
To learn more about Advanced Improvements, visit www.AdvancedImprovementsLLC.com or call their main office at (860) 536-7663.